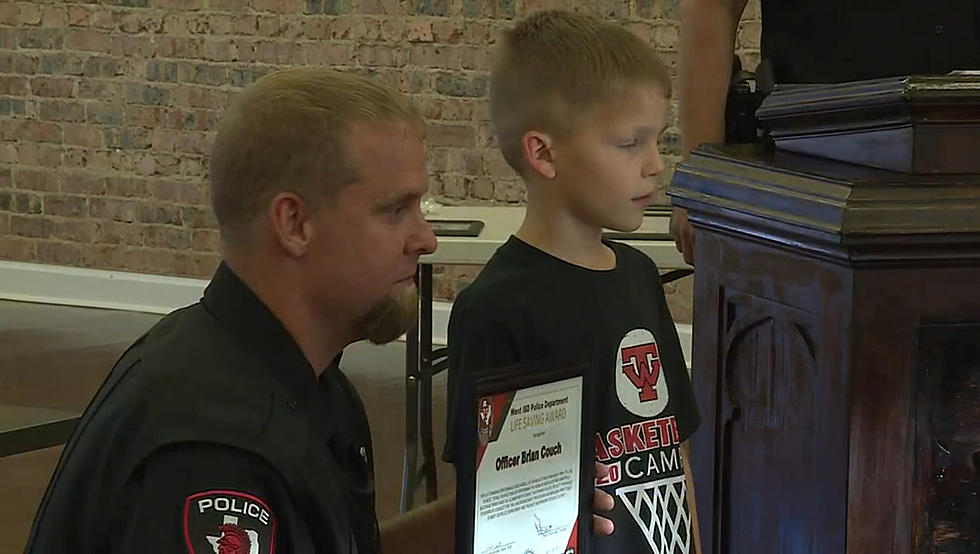 Heroic Officer in West, Texas Saves Life of Student Choking on Donut
Officer Brian Couch and Jonah Montoya - KWTX-TV
A Central Texas mom is warning other parents about the hazards of kids eating in the car after a school police officer saved her son from choking to death in the drop-off line.
Amber Montoya is beyond grateful for Brian Couch, and rethinking breakfast on the go for her kids. Couch, an officer with the West Independent School District Police Department, is being hailed as a hero after saving the life of 7-year-old Jonah Montoya with the Heimlich Maneuver.
Choking and Driving
It was a busy morning, and Montoya was just trying to make sure everyone had something to eat before school started. She was running late, and figured that donuts would be a quick, easy breakfast for her three kids, including Jonah's twin Noah and his older sister Gianna. She was dropping the children off when she noticed something wasn't right.
We were pulling up as staff started going in at the 7:45 mark, normally staff will open the doors and get them out, but due to them already going into school, Gianna and Noah exited the vehicle--Jonah was not exiting, I guess he was still eating, so I go and open his door and he takes off to the grassy area and doubled over, I knew something was wrong.
-Amber Montoya, mother of  Jonah
She says the school staff had gone inside, except for Couch. When he saw what was going on, he came over from the crosswalk to help. Even though Montoya had taken two CPR classes and knew what to do when someone was choking, her efforts weren't working for her son.
Couch grabbed Jonah, began the Heimlich Maneuver, and caused a large piece of donut to pop out of his throat. Montoya says the officer's quick actions saved her son's life.
A big thank you is in order for Officer Couch, whose quick thinking and skills saved a young life and averted tragedy. Way to go!
Six Texas Children Under the Age of Five Still Missing
If you have any information into the disappearance of any of these children, contact the police departments listed on the graphic.
Blue Bell Ice Cream On The List of Top 15 Brands Nationwide
Blue Bell
is the official ice cream of Texas, and my personal favorite.
According to a new list
of the 15 best brands of ice cream nationwide, Blue Bell was ranked in the middle.
In addition to ingredients, texture, and variety,
Tasting Table
used
Influenster
and other site reviews as part of its ranking process.
Scroll on to find out how Blue Bell compared to the number one ice cream, and how all 15 on the list were judged.
Texas in Top 10 Best States to Work from Home in America
How many people do you know that work from home? Since the pandemic, the number of employers with remote jobs has risen steadily.
WalletHub
used 12 factors to compare 50 states and the District of Columbia, including the percentage of people working from home, internet cost, cybersecurity, plus size and population concentration of homes in the state.
Let's take a look at the states that are the best for remote work, and where Texas sits on the list nationwide.