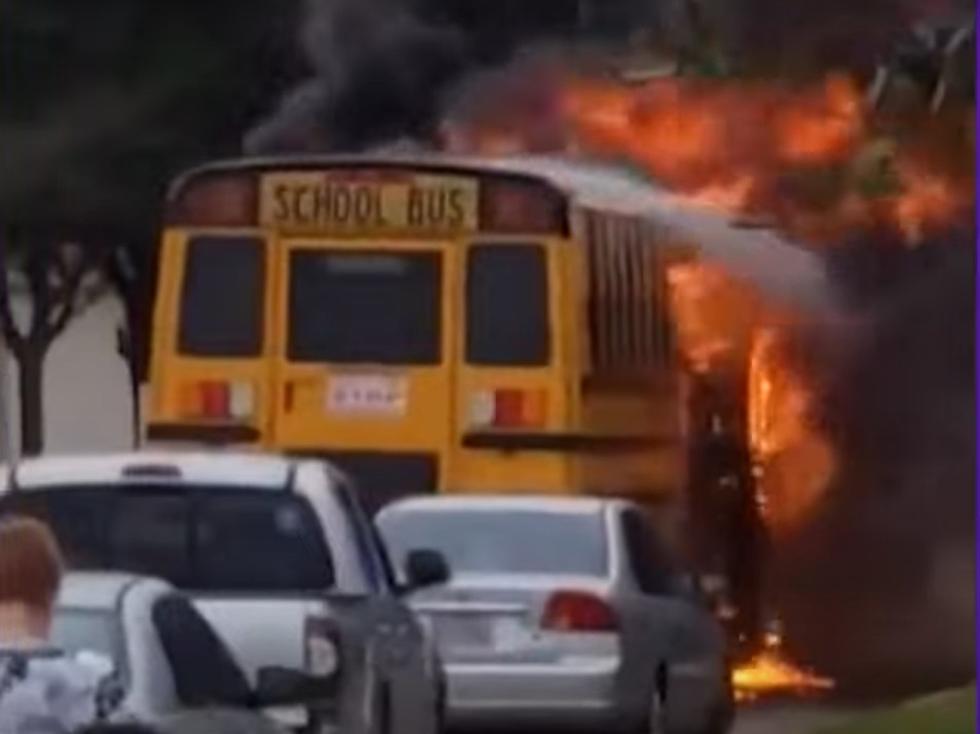 Hero Texas Bus Driver Saves Kids Minutes Before Bus Is Engulfed in Flames
KHOU11/YouTube
Things could have ended up much worse if not for the quick thinking of Patrick Rogers.
Rogers is a bus driver for Dickinson ISD, and knew exactly what to do last Wednesday afternoon, 2/23/22, when he smelled smoke on his afternoon route.
Bus Fire
According to 12 News Now, Rogers was driving the bus filled with kids from Lobit Middle School when he smelled the smoke after making his first stop of the afternoon. Rogers immediately jumped into action in assisting the evacuation of the students.
Video of the fire showed Rogers as the last person off just minutes before flames engulfed the front of the bus.
See video below posted by KHOU 11:
---
---
Hero Bus Driver
Parents and school officials are calling Rogers a hero for his actions. Rogers tells 12 News now, "I don't know about a hero, I'm just happy it worked out the way it did. I was just doing what any bus driver would do. I am grateful and thankful to all the parents for their support."
Rogers' quick thinking is responsible for saving himself and the 28 other kids on that bus, but the man doesn't consider himself a "hero." Rogers says he was just doing what he was trained to do but does admit, "We could all be dead, the driver and 28 souls could be lost and I'm extremely grateful it didn't go that way."  
Cause of Bus Fire
The Dickinson Fire Department was investigating the cause of the fire, but took time to praise the actions of Rogers for getting the kids off the bus and moved to a safe distance so firefighters could extinguish the blaze.
This could have been so much worse if not for the actions of Rogers.
10 Myths About Texas That Even Some Natives Believe
Everything's bigger in Texas, including the tall tales! Our state can seem pretty strange to people from far away, or even our immediate neighbors. There are several myths about Texas that range from quirky to fun and just plain ignorant and insulting, and even some people born and raised her believe 'em. Here are a few we can dispel today.
NO THANKS! Texans Don't Need More of These 12 Things
There's not much not to love about Texas, but here are a few things that we probably could use less of.