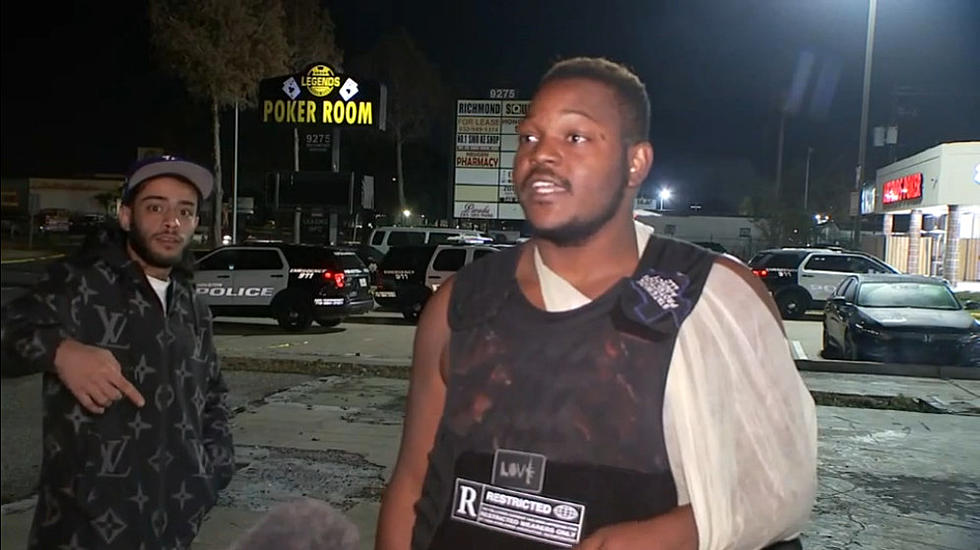 Hero Houston Security Guard Tackles Gunman Armed With AR-15
KTRK-TV
Things could have gotten deadly if not for a 21-year-old security guard who fought back when a gunman attempted to rob a Houston poker club on Monday night.
Trelynn Robinson tells Fox News Digital that a gunman with an AR-15 attempted to rob  Legends Poker Room at around 1:30am on Jan. 17.
According to Robison, the gunman entered the building with his gun pointed at him and started yelling, demanding money. Robison says he leapt toward the armed man and wrestled him for his gun for about a minute before the firearm went off. Robison then threw the man into a trophy case, which caused glass to break and the man to drop his gun.
Robinson, with the help of others, then held the suspect down until police arrived.
---
---
According to KTRK, Robinson dislocated his shoulder and suffered a graze wound from when the AR-15 discharged. Thankfully, no other injuries were reported. Investigators said about 15 to 20 shots were fired.
Robinson's quick action may have saved lives. He told interviewers, "The reason why the bullets are in the wall and not in anybody is because I lunged towards him the moment he pointed the gun towards me."  
There were about 50 people inside Legends Poker Room when the attempted armed robbery took place.
If not for Robinson's heroic actions on Monday night, things could have been deadly. Robinson says he's not a hero, he just did the job he signed up for.
Texas Crime Statistics By City
Check to see how crime compares in your city versus elsewhere.
Only 6 Women Are On Death Row In Texas. Here's A Look At Their Crimes.
**This story has been updated to reflect the current status of Melissa Lucio, who is scheduled to be executed on April 27th, 2022.**
Texas has the most active death chamber nationwide.
The six women on death row in Gatesville, Texas have been incarcerated an average of almost two decades. Continue scrolling to see their stories.