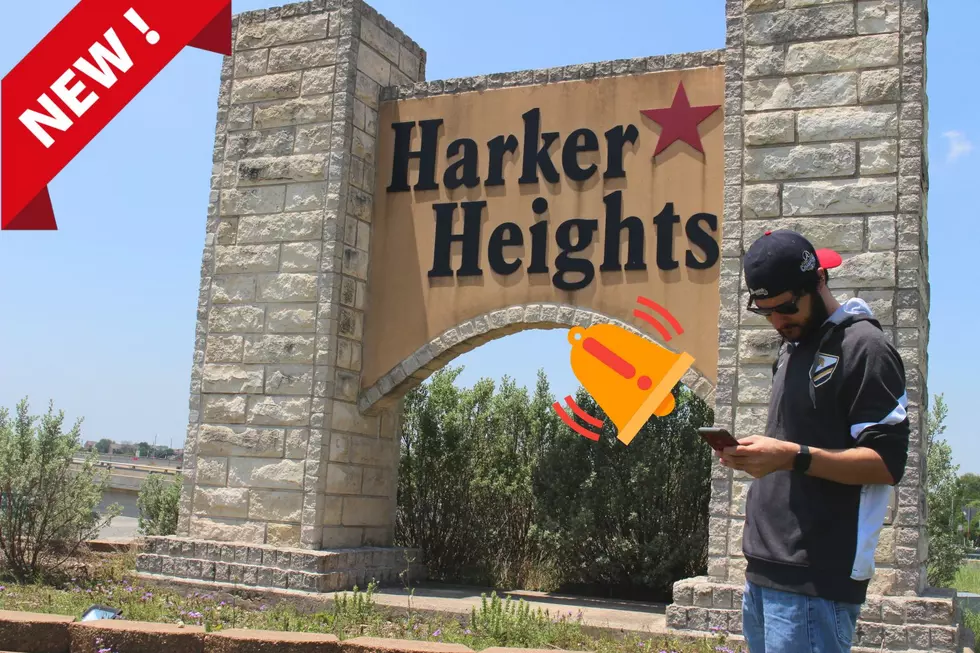 Ding! Stay On Top of Things With New Harker Heights Alerts
Townsquare Media/Canva
As the newest resident in Texas, I'm beginning to adjust to how to drive, where to go, and more importantly where to go for good food and any other special events taking place. As it turns out, Harker Heights, Texas has released something both new and current residents can use to keep up with current events happening in the city.
According to a press release sent out by the city, a new "eblast" service has been launched. Named "GovDelivery", it's set up to deliver anything breaking in the city of Harker Heights.
In the press release, States Assistant City Manager Jerry Bark went into detail about the new system.
"This new service allows us to efficiently share news, action alerts, event notices, and updates in a timely fashion – all delivered directly to your email inbox or by text-message notifications," Bark said.
Also according to the press release, resident and visitors can choose which alerts they'd like to receive. Bark said of the ability to do tasks such as that, "We hope you will find it useful to have the ability to customize your eblasts based upon your particular interests in the City services."
In the era of digital news sharing that we live in, this will be definitely useful to many like myself who may want to visit the city of Harker Heights to see what is going on.
If you're interested in signing up for the program, visit harkerheights.gov.
In the meantime, I'll still be looking for a Whataburger around these parts. Aren't they supposed to be everywhere? (I'm joking of course!)
Why the Most Expensive House in Belton, Texas is Perfect For Parties
This spacious 3 bedroom, 5 bath home in Belton has 5,580 square feet, but the star of the show is the incredible piece of land that comes with it.
The property includes over 300 acres and is
listed at $25,000,000
. Let's explore the house, pool, and all the great places you can throw a party without leaving your home!
This $170M Texas Ranch With 65,000 Acres Is a Dog Lover's Dream Home
Mesa Vista, the 65,000-acre Panhandle ranch, which belonged to oil billionaire
T. Boone Pickens
until his death three years ago, has been up for sale since 2017. The list of mind-blowing amenities is long, but for the price it's quite a deal!
The property includes its own golf course, a chapel with a memory garden, an airport with a private apartment for the pilot, and a 40-unit kennel, complete with a bronze dog sculpture in front of the building. Pickens, who was an avid hunter and dog lover,
told Land Report in 2015
"
Back when I couldn't afford one bird dog, I had two. When I couldn't afford two, I had three
."
Let's take a look around this incredible piece of property, which
was recently reduced
from $250 to $170 million, and see what kind of luxuries you and your furry friends could enjoy!
Texas in Top 10 Best States to Work from Home in America
How many people do you know that work from home? Since the pandemic, the number of employers with remote jobs has risen steadily.
WalletHub
used 12 factors to compare 50 states and the District of Columbia, including the percentage of people working from home, internet cost, cybersecurity, plus size and population concentration of homes in the state.
Let's take a look at the states that are the best for remote work, and where Texas sits on the list nationwide.
Bet You Didn't Know: 10 Bizarre Texas Laws Still on the Books
Many states still have strange laws on the books that aren't enforced or taken seriously anymore, and Texas is no exception.
Most of these laws are just funny now, but at one time, there was a valid (or at least somewhat valid) reason for them to exist.
Let's take a look at 10 of the weirdest ones in the Lone Star State.