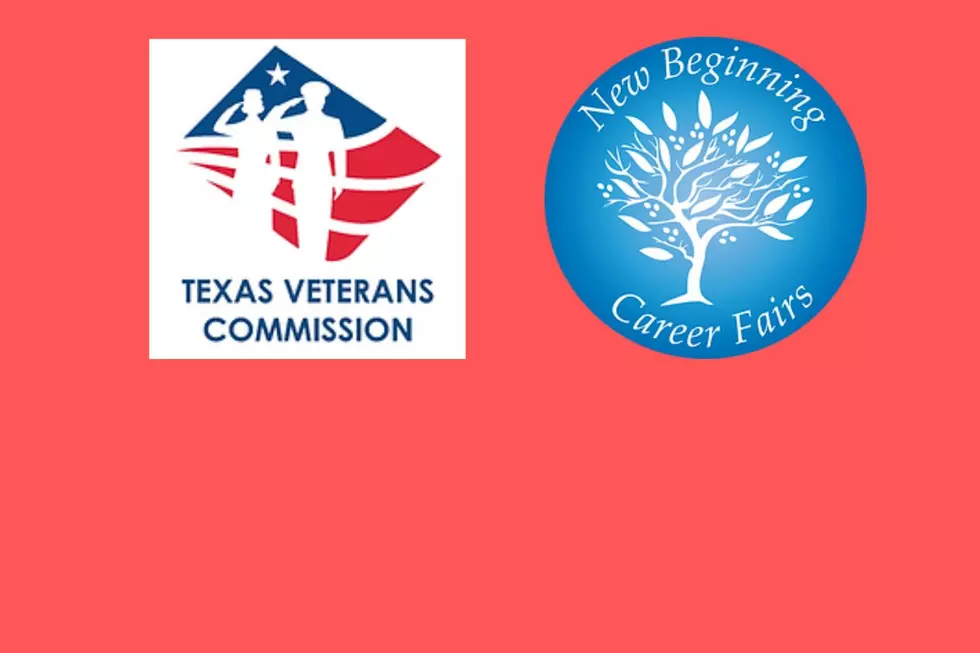 Get a Fresh Start at the MEGA Military Hiring Event in Killeen, Texas
New Beginnings Career Fairs, Canva
This is all about you and your future. If you're looking for a change, need a better job, or want to get started on a new career, now is the time! Don't miss the 2022 M.E.G.A. Military Hiring Event this Wednesday, May 4th from 10:00 am – 4:00 pm at the Killeen Civic & Conference Center.
What Kind of Companies Are Hiring?
Over 90 local, regional, and national companies will be at the job fair. Openings are available in all types of industries, including:
Accounting & Finance
Advertising & Marketing
Art, Fashion & Design
Animal Care
Computer & IT
Construction
Customer Service
Education
Energy & Mining
Entertainment & Travel
Farming & Outdoors
Healthcare
Human Resources
Law Enforcement
Legal
Maintenance & Repair
Management
Manufacturing & Warehouse
Media, Communications & Writing
Protective Services
Transportation & Logistics
Real Estate
Restaurant & Hospitality
Sales & Retail
Science & Engineering
Security
Social Services & Nonprofit
Sports, Fitness & Recreation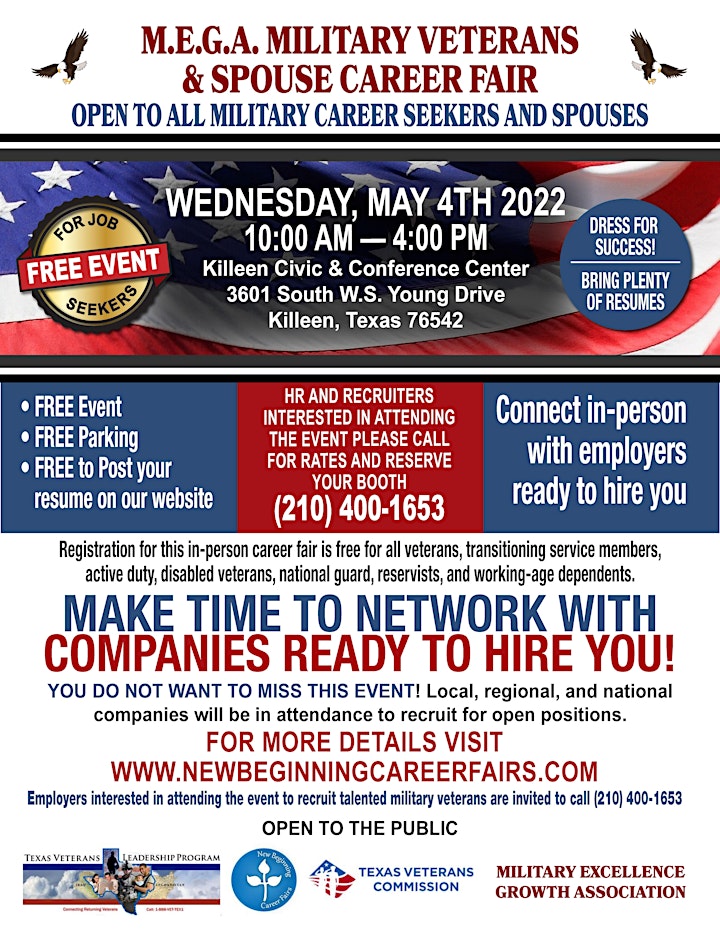 What to Wear to a Career Fair
Dress for success! A business suit with pants or skirt is always appropriate. Be dressed for a potential job interview. Don't forget to bring plenty of resumes, business cards (if you have some), and make sure you smile!
Killeen Civic & Conference Center is located at 3601 South W.S. Young Drive in Killeen. This event is free and open to the public. Parking is free and there is no charge to post your resume on the New Beginning Career Fairs website. For questions or more information, call 210-400-1653.
---
Texas in Top 10 Best States to Work from Home in America
How many people do you know that work from home? Since the pandemic, the number of employers with remote jobs has risen steadily.
WalletHub
used 12 factors to compare 50 states and the District of Columbia, including the percentage of people working from home, internet cost, cybersecurity, plus size and population concentration of homes in the state.
Let's take a look at the states that are the best for remote work, and where Texas sits on the list nationwide.
Let's Look Inside Dak Prescott's Amazing Home in Prosper, Texas
Being the face of the most lucrative sports team in America is not easy, but it does pay very well. Last year Dak Prescott finally inked his big deal with America's Team, but he's been living in his Prosper, TX home since '19.
The Most Dangerous City in Texas for 2022 May Surprise You
According to FBI statistics
, Texas had
438
violent crimes and
2,562
property crimes per 100,000 residents as of this year. For every 100,000 residents, there are
224
police officers statewide.
Crime rates are expressed as the number of incidents per 100,000 people.