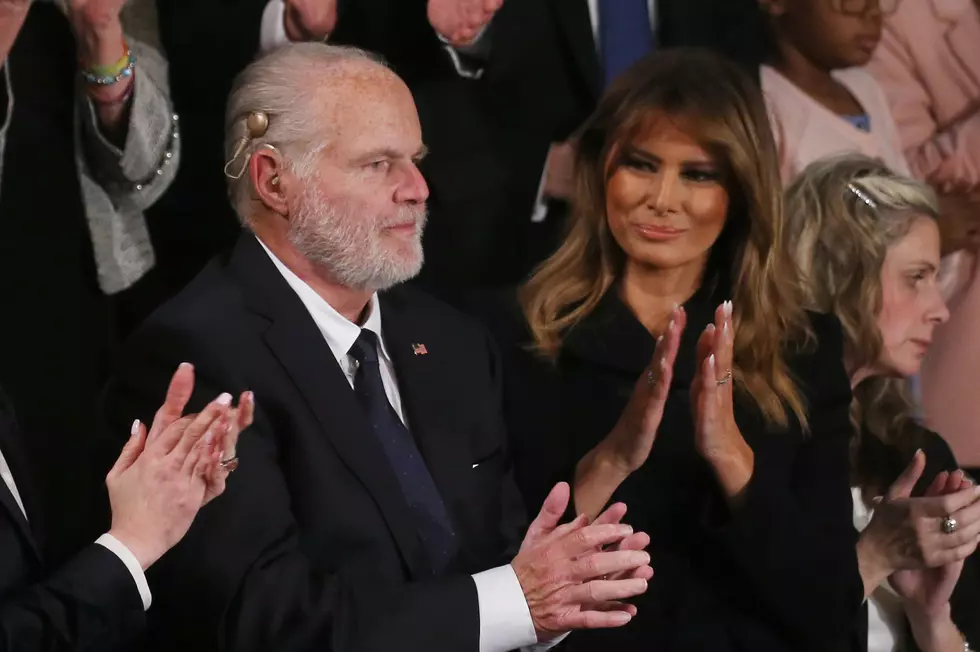 Florida Democrat Nikki Fried Rejects Order to Lower Flags for Rush Limbaugh
Getty Images
Rush Limbaugh certainly didn't shy away from controversy in life, and today, a week after passing away at 70 following a battle with lung cancer, the late conservative talk radio giant is once again at the center of it.
Last Friday, Florida Governor Ron DeSantis ordered flags in the state be flown at half-staff today (Wednesday, February 24) in honor of Limbaugh, who hosted his nationally syndicated show daily from his studio in Palm Beach.
Now some officials are defying DeSantis' order, including Florida's top Democrat - Agriculture Commissioner Nikki Fried.
In a statement issued earlier this week, Fried wrote:
"Lowering to half-staff the flag of the United States of America is a sacred honor that pays respect to fallen heroes and patriots. It is not a partisan political tool. Therefore, I will notify all state offices under my direction to disregard the Governor's forthcoming order to lower flags for Mr. Limbaugh – because we will not celebrate hate speech, bigotry, and division. Lowering the flag should always reflect unity, not division, and raising our standards, not lowering them. Our flags will remain flying high to celebrate the American values of diversity, inclusion, and respect for all."
The statement goes on to say that flag protocol calls for lowering the flag for federal and state officials and employees, as well as fallen first responders and those we die in the line of duty while serving in the Armed Forces.
Fried isn't the only Florida leader rejecting Gov. DeSantis' order. Palm Beach County Commissioner Melissa McKinlay announced via Twitter Tuesday that the county's courthouse flag will also not be lowered.
That's right - the flag will not be lowered in Rush's home county.
Interestingly, the tweet to which McKinlay was responding stated that the governor's order only applied to Florida's State Capitol, the Palm Beach County Courthouse, and Palm Beach City Hall.
Whatever your thoughts on Rush Limbaugh's life and influence, one thing's for sure - even in death, the man can still stir the pot.
MORE: 11 of the Worst Marketing Blunders in History