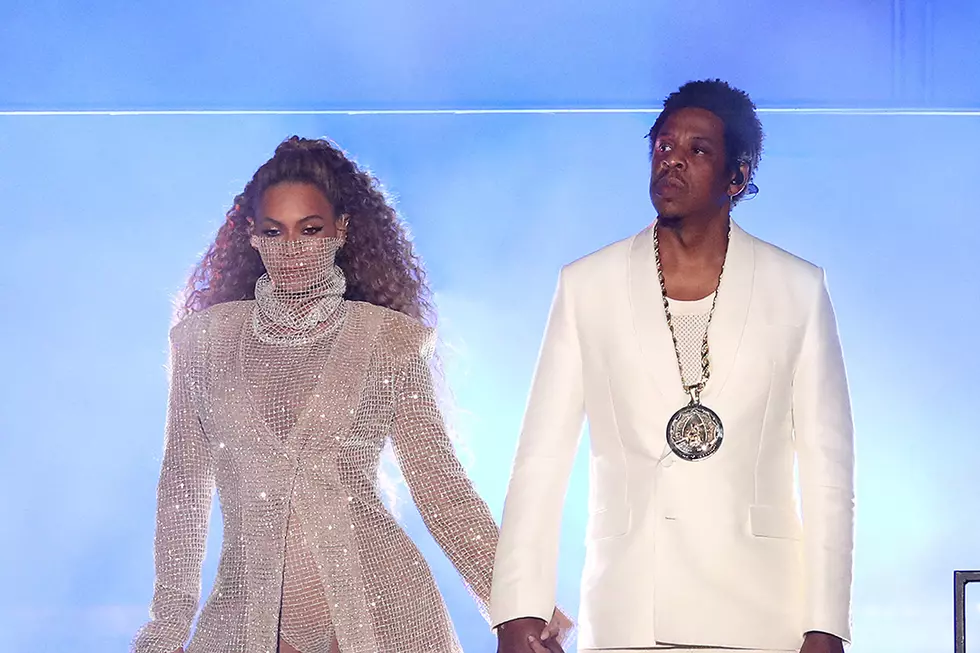 Beyonce Wears a Thong in Bed With Jay-Z in New Risque Photo
Raven Varona / Parkwood Entertainment
Jay-Z and Beyonce's On The Run II Tour has officially set sail in the U.K. Apparently, some fans are being greeted to much more than a dope show. The couple is distributing a tour book to accompany the performance, and the photos of Bey and Jay nude has people's jaws dropping.
The images are making the rounds on the internet and feature Bey and Jay in the bed. Jay is shirtless and puffing on a cigar in the background, while his R&B superstar wife is adorned in only a thong while reading the newspaper. One person who posted the photo on Instagram commented, "Dear #Beyonce: I was not ready!!! #BreakfastInBed #JayZ #OnTheRunTourBook."
There's also another photo that shows both Bey and Jay in their birthday suits, with Hov caressing his queen's naked body as she has her knees pulled up to her chest. That image can be seen by swiping left on The Shade Room Instagram photo below.
The massive tour kicked off its U.K. run on June 6 in Cardiff, Wales. They even offered fans free tickets as a reward for doing charity. After today's show in Glasgow, the couple has 13 more shows across The Pond before making their way back to the States.
Once back in North America, they will put on 21 more shows in cities like Philadelphia, Boston, Chicago, Detroit, Atlanta, Miami, New Orleans, Houston, Los Angeles and more. It was recently revealed DJ Khaled will join the show on the second leg. "Hitting the road with @S_C_ and @Beyonce in North America for the #OTR2 tour!! #BLESSUP #FANLUV," he recently tweeted.
Check out Bey's thong photo below.
See Photos of Jay-Z's Different Looks Over the Years