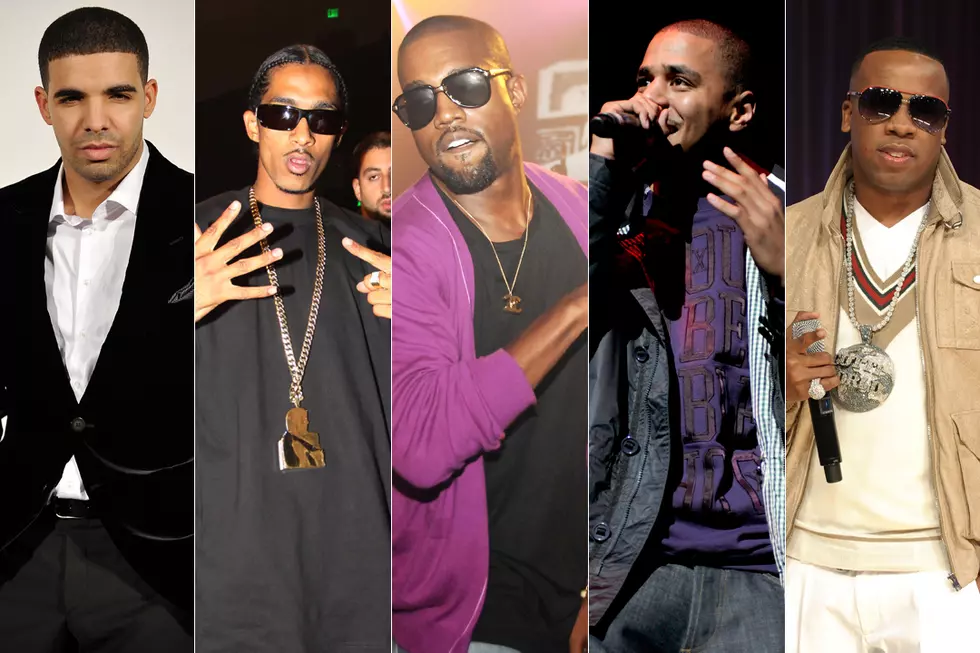 50 Hip-Hop Songs Turning 10 in 2019
John Shearer / Johnny Nunez / NICK HUNT / Patrick McMullan / Tim Mosenfelder / Michael Loccisano / WireImage (2), Getty Images (3)
While social media has folks flashing back to flicks of their older selves with the 10-year challenge, XXL is doing the same with hip-hop. 2009 was an interesting year for hip-hop, featuring rising artists who'd go on to become bonafide stars, legends re-establishing themselves and modern-day superstars completely switching styles. It was a year that will be looked upon fondly in hip-hop's history.
In 2009, hip-hop wasn't shy at all about simply having fun. A multitude of party anthems become club staples of their time. Yo Gotti dropped "5 Star"—you heard those horns and that hook everywhere you went. Yung L.A.'s "Ain't I" livened every kickback in the U.S., showing off Atlanta's present and future. Young Money's "Every Girl" kicked off YM's crazy (and ongoing) run, with Weezy, Nicki Minaj and Drake all being huge draws.
In addition to having a good time, rap in 2009 opened the door to new acts who are now household names. When Drake dropped "Best I Ever Had," he seemingly won everyone over in one fell swoop. The sweet song about showing love to that special someone perfectly toed the line between rap and upbeat R&B. Dreamville's fearless leader J. Cole dropped the heartfelt "Lights Please," kicking off a run that led to him becoming both a superstar and well-respect lyricist. Nipsey Hussle released "Hussle In The House," flipping Kriss Kross' "Jump" and quickly getting himself on the radar as one of the new voices out of the West Coast. As you should know, Neighborhood Nip is now Grammy-nominated, thanks to his debut album Victory Lap.
While the new jacks had a great 2009, so did the established acts—the rappers who were already superstars. Jay-Z released "Empire State Of Mind" alongside Alicia Keys, a track that might as well be the official song of New York City. "Heartless," a huge stylistic change for Kanye West, opened up the darker and more emotional stretch of his career. And on the lighter side, T.I. hit us with "Whatever You Like," the sing-song track about buying the lady in your life whatever she desires.
If you didn't get to experience hip-hop in 2009 firsthand (or even if you did), enjoy our assortment of songs from that era below.
"Ain't I"

Yung LA Featuring T.I. and Young Dro

"Always Strapped"

Birdman Featuring Lil Wayne and Mack Maine

"Baby By Me"

50 Cent Featuring Ne-Yo

"Chillin"

Wale Featuring Lady Gaga

"Crack a Bottle"

Eminem Featuring 50 Cent and Dr. Dre

"Da Game Been Good to Me"

UGK

"Empire State Of Mind"

Jay-Z Featuring Alicia Keys

"Every Girl"

Young Money Featuring Lil Wayne, Drake, Jae Millz, Gudda Gudda and Mack Maine

"Exhibit C"

jay Electronica

"Forever"

Drake Featuring Kanye West, Lil Wayne, Eminem

"Halle Berry"

Hurricane Chris Featuring Superstarr

"Hussle in the House"

Nipsey Hussle

"Ice Cream Paint Job"

Dorrough

"I Love College"

Asher Roth

"Kiss Me Thru The Phone"

Soulja Boy Tell'em Featuring Sammie

"Live Your Life"

T.I. Featuring Rihanna

"Lost"

Gorilla Zoe Featuring Lil Wayne

"Make Her Say"

Kid Cudi Featuring Common and Kanye West

"Make Tha Trap Say Aye"

OJ Da Juiceman Featuring Gucci Mane

"Maybach Music 2"

Rick Ross Featuring Kanye West, Lil Wayne and T-Pain

"Million Bucks"

Maino Featuring Swizz Beatz

"Mrs. Officer"

Lil Wayne Featuring Bobby Valentino and Kidd Kidd

"One More Drink"

Ludacris Featuring T-Pain

"Popular Demand"

Clipse Featuring Cam'ron

"Pursuit of Happiness"

Kid Cudi

"Respect My Conglomerate"

Busta Rhymes

"Rich Off Cocaine"

Rick Ross Featuring Avery Storm

"Right Round"

Flo-Rida Featuring Ke$ha

"Run This Town"

Jay-Z Featuring Rihanna and Kanye West

"Shine Blockas"

Big Boi Featuring Gucci Mane

"Swag Surf"

F.L.Y. (Fast Life Yungstaz)

"Swagger Like Us"

T.I. Featuring Kanye West, Jay-Z and Lil Wayne

"Throw It In The Bag"

Fabolous Featuring The-Dream

"Turn My Swag On"

Soulja Boy

"Wasted"

Gucci Mane Featuring Plies

"Who's Real"

Jadakiss Featuring Swizz Beatz